WARRANTY & RETURNS
Please click the image below (Warranty/Return Form) to download and fill out. For warranties, please print a copy and attach the original nameplate and return it to us via mail for processing. For returns, please print a copy and include it with the item(s) being returned, in both cases, please make sure you keep a copy for your records. If you have any questions please visit our Contact Us page and we will respond to your questions or concerns.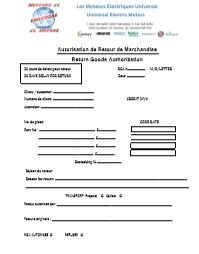 WARRANTY POLICY
At Universal Electric Motors, we understand that it is possible, for a product to be purchased in error, or deffective. It is for these reasons that we will refund your account without hesitation on all returned products which are considered "not installed" or in good condition within 30 days of the date of purchase. If motors are deemed defective, warranty is applicable on the following conditions: 1 year from date of purchase or 2 years from manufactured date.
CONDITIONS OF WARRANTY
The warranty shall be void and of no effect if the following are performed & found on the motor:
(1) The motor has been subjected to improper installation, storage or handling; as well as, any abuse unsuitable for the motor;
(2) The motor was subjected to an unauthorized repair;
(3) The motor was subject to any water damage;
(4) The motor was engaged above its rated load;
(5) The motor lacked reasonable & necessary maintenance;
(6) Improper packaging for return.
Universal Electric Motors does not cover the cost of installation, removal or re-testing of the new or repaired products. Universal Electric Motors will not be liable for any costs or damage incurred by its customers in the removal or replacement of defective products from units in which the products have been assembled.
RETURN POLICY
No returns will be accepted without a Returned Goods Authorization (RGA) provided by Universal Electric Motors. Please Include the products purchased in error or defective with their original packaging in one box along with a copy of the invoice within 30 days. Upon reception of your returned goods, we will issue a credit for the returned products. The credit will be issued on your account.
Do not forget, only the products returned in their original packaging will be credited. Any returned goods are subject to inspection and restocking charges of 10% to 25%.
The transport charges will be at your expense.
Return your product to:
2310 Guenette St, Saint-Laurent, QC H4R 2H2
DAMAGE DISCLAIMER
In no event shall Universal Electric Motors be liable for consequential, incidental or any other damages impute to an infringement. Universal Electric Motors is also no way liable for any loss of profits the company may face.